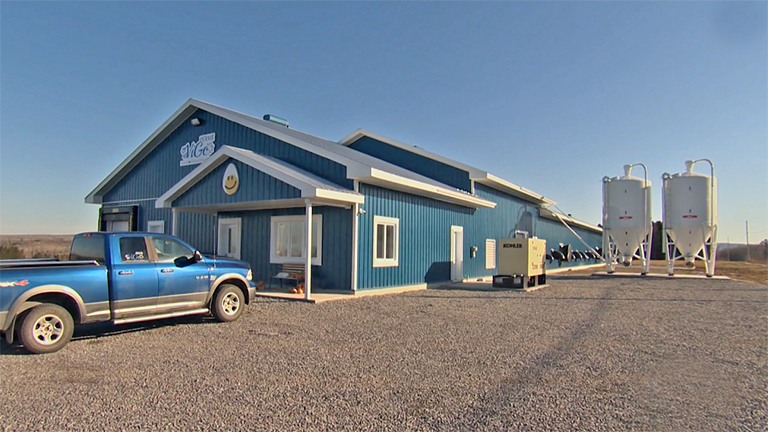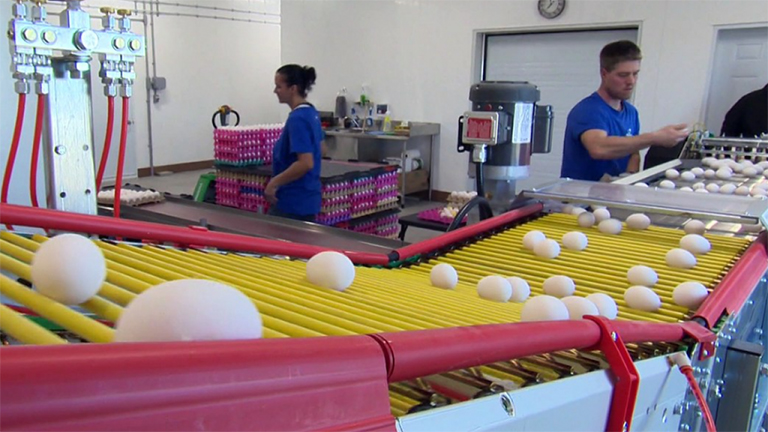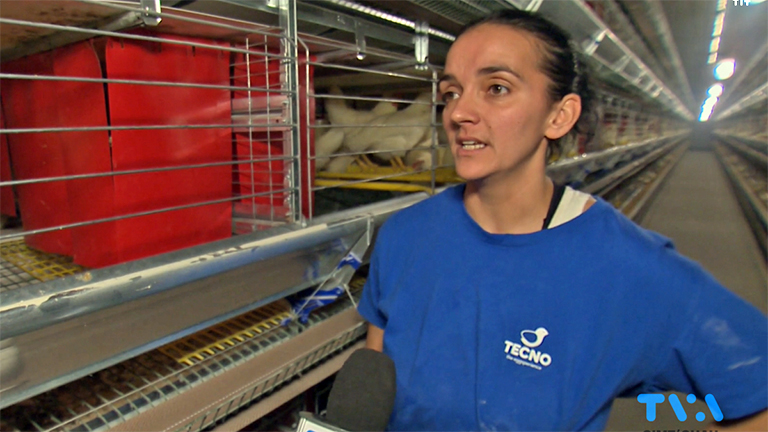 Ferme ViGo, thanks to their state-of-the-art facility and enriched egg laying operation, won the Turn to Excellence award from La Financière Agricole du Québec.
This competition - in its sixteenth edition - is launched with the aim of highlighting the importance of the work of young agricultural entrepreneurs, rewarding those who stand out for their professional skills and their managerial qualities. La Financière Agricole du Québec promotes the development and stability of over 24,000 agricultural and forestry businesses in Quebec.
The enriched hen housing system was supplied by Tecno and installed by our Canadian distributors Clark Ag Systems and Mario Godbout, both of whom are also partners in this success.   The egg laying system, the Tecno Plus 94 , is distinguished by the presence of transverse perches and excellent egg quality. The perching engineering allows for great flexibility in the configuration of the system, with different possible positions for the nests and scratching areas. This system also provides for the possibility of installing additional internal feeders that allow you to maximize the number of hens. Last but not least, the transverse position of the perches induces the hens to move around the system without running, resulting in a calmer situation inside the space, and a reduction in stress for the animals. The calm and continuous movement between the perches ensures that the hens arrive in the nest area with cleaner feet, reducing soiling, and increasing the quality of the clean egg being produced.
The two owners of the ViGo farm, started in 2008 in Saint-Onésime-d'Ixworth, have recently expanded their current activities of ovine and maple syrup production,  by engaging in egg production with an innovative structure that houses an initial barn of 9,920 laying hens, thus becoming the Kamouraska's first farmers affiliated with the Federation of Quebec Egg Producers.
The new building is at the forefront of technology and it's highly automated. The Tecno Plus 94 system is equipped with 24 belts on which the eggs are deposited by gravity.  Once the belts are activated, the eggs automatically arrive via the elevator and conveyance system to the collection room and are placed in the cells, where they are then sent to market.
We are proud that our Tecno Plus 94 system is part of such an innovative and award-winning system.